Sponsor Spotlight: RenovationFind
We're thrilled to have RenovationFind as a sponsor of the 2022 Edmonton Fall Home Show. Before you visit this inventive company at the Edmonton EXPO Centre over the October 14-16 weekend, please enjoy our brief interview with the RenovationFind team below.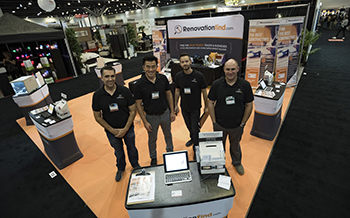 Q. How does your service work?
RenovationFind.com provides a free online directory of certified home improvement companies, trades, and contractors. Each company listed on the website is rated based on a third-party screening process. The companies are checked for proper business licensing, liability insurance, and WCB coverage. In addition, they go through legal and financial background checks to ensure they're in good standing and monitor the company for customer complaints to ensure they keep up to our high standards. If the company is a member of the Better Business Bureau, they get a higher ranking on the directory.
RenovationFind connects homeowners with reliable, trustworthy, and certified home improvement companies for their projects. So, whether you need a plumber, tile installer, roofer, or the best basement development contractors in Edmonton, you can find a trustworthy company on RenovationFind.com.
In addition, we offer various digital marketing services to the companies on the website so we can promote those worthy businesses. As a result, both homeowners and certified companies benefit from RenovationFind.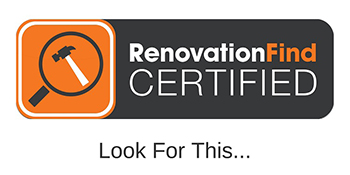 Q. What inspires your services?
Before starting RenovationFind, we worked in the renovation industry for many years running a granite countertop company. We constantly heard horror stories from customers who had terrible experiences with contractors. People were getting ripped off and taken advantage of, often resulting in a financial burden for the homeowner.
RenovationFind provides homeowners with honest contractors that offer quality work and positive customer service. Homeowners should have this resource, which helps improve the reputation of the renovation industry overall.
Q. What can we look forward to from you at the Edmonton Fall Home Show?
We invite visitors to come to see us at our booth! We'd love to chat with you and share more about how RenovationFind works and can help with your next big project. We will also offer our "Post a Project" service at the show. You can submit your project details, and we can get quotes from three applicable contractors for those projects.
For example, if you need someone to manage a whole-house renovation, we will send your project details to the three best general contractors in Edmonton. Those companies will contact you for more information and to provide a quote for the project.
Also, we have a fun contest happening at our booth! You can sign up for a RenovationFind Membership and we'll enter you into a draw for $1,000! A RenovationFind Membership gives you access to exclusive promotions and discounted pricing from our Edmonton partner companies.
Q. What advice do you have for homeowners?
Always take the extra time to do lots of research before hiring a contractor. Check for business licensing and insurance, and ask for references. You should be able to speak with their most recent clients to get the best picture of what it is like to work with them. Always get estimates and contracts in detail and writing before agreeing to any work.
Q. What is your favourite part of the Edmonton Fall Home Show?
Our favourite part is meeting homeowners and helping them connect with reputable and deserving companies. Connecting the two helps everyone and makes for a better experience across the board.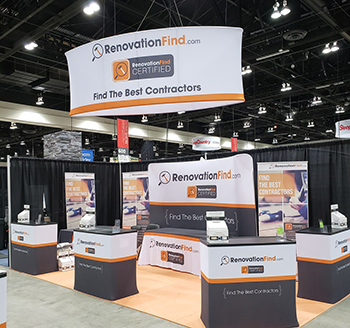 Q. Are there any success stories you'd like to share?
We rely heavily on data to offer our service, and part of collecting data is getting feedback from users. Homeowners have reported positive experiences using RenovationFind.com and working with certified companies on the website. It has helped reduce the stress of renovating for a lot of people.
For the companies, we put a lot of effort into promoting their services to homeowners in their target demographic. As a result, we have helped these companies increase their web traffic and get quality leads through their RenovationFind profile.
Q. What can folks expect when they work with you?
Homeowners can trust that they're contacting a reputable and reliable list of contractors for their potential home projects. If you become a RenovationFind Member, you'll receive exclusive promotions and discounted pricing from our partner companies in your city. Our website has numerous categories, including painters, electricians, drywall contractors, exterior renovation companies, window installers, HVAC contractors, the best home addition contractors in Edmonton, and many others.
Companies on the website will make more connections with qualified customers. We promote companies through email campaigns, blog articles, social media marketing, search engine targeting, banner ads, and other digital marketing tools.
Oct 12, 2022, 14:10 PM