Design with the Earth in Mind - Eco-Conscious Interiors with Amanda Lwanga
Oct 13, 2023, 18:17 PM
Sustainability comes in a lot of different forms. You can walk to the store instead of driving, opt for a reusable mug at the coffee shop over a to-go one or switch to natural cleaning products instead of harsh chemicals. But one thing that isn't always talked about when going 'green' is how we choose to design, decorate and build our homes.
Amanda Lwanga, the Founder and Creative Director of Linger Design Studio, is a featured presenter at the 2023 Edmonton Fall Home Show, where she will be sharing her best practices for creating stunning interiors using sustainable materials at any budget. If you are looking for ways to make smart choices for improving your home, Amanda gave us some of her must-know tips for designing your space the 'green' way.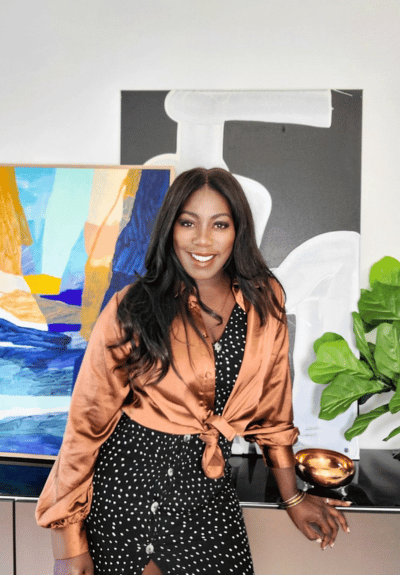 Why is the trend of sustainable interiors important to you? Why now?
Amanda: According to firms like RIM and Tangible Materials, building materials are responsible for approximately 11% of ALL global greenhouse gas emissions. That's more than all fashion and flights combined!
There's a huge opportunity for professionals in the design industry and home and business owners to play a pivotal role in changing these statistics by thinking creatively!
How can you incorporate sustainable and eco-design elements without looking too "crunchy" or "hippy?"
Amanda: Authentic, sustainable design has a place in every design aesthetics. It's not just about adding plants in every corner as seen in Scandinavian design; using natural finishes like walnut, popular in mid-century modern spaces, or using only pre-loved vintage furnishings, which is very eclectic. Eco-couture, as I like to call it, is about finding ways to re-invent what exists into something beautiful, unexpected and personal.

For example, you can fix and re-design a broken light fixture by partnering with a local electrician, source flooring and countertops that count towards LEED credits, or support a local furniture maker and boost your local economy. These options have nothing to do with one look and everything to do with normalizing sustainable practices and making them feel accessible at all levels.
What advice would you give someone looking to be more mindful of how they shop for and decorate their home?
Amanda: You'll know you're on the right track when you get curious about how materials are processed and manufactured. If you can minimize the number of steps between the raw materials and the finished product and how far away it is from you, then you are making the most significant impact! If that is not feasible, seek to re-invent something you already own or that already exists, like refinishing furniture or reworking an old light fixture.
Also, don't chase trends. I know designers always say this, and it's for a good reason. Chasing trends keeps you stuck in the recent past. You'll feel 'with it' for a year, then quickly feel unoriginal. Always follow your fear and trust in what stimulates you emotionally and intellectually — that is what makes spaces iconic and memorable.
What are the trends in sustainable interiors you are obsessed with right now?
Amanda: I'm over-the-top obsessed with vibrant natural stones. With full disclosure, I feel a bit guilty that many of the saturated tones and textures I love come from Brazil, China and Europe. But, so many local stone fabricators can't seem to get rid of these pieces fast enough because they were trending in the 80s and 90s but don't fit within the black, white and grey farmhouse or minimalist aesthetic that homeowners are still asking for.


PHOTOCREDIT_PAUL_SWANSON

What eco-conscious design trends are you showing at the Edmonton Fall Home Show this year?
Amanda: I'm so excited to speak about sustainability at the show this fall. I've designed a bougie-maximalist boudoir at the main stage that neither skims on style nor sustainability. I'm also showcasing pieces from my furniture line, Petra Fine Furnishings, which has kept my natural stone obsession satiated and well-fed!
Edmonton Fall Home Show
Amanda is bringing her talents and tips to the Edmonton Fall Home Show from October 13–15 at the Edmonton Expo Centre. The show will feature hundreds of exhibitors from across Canada and beyond showcasing the latest trends in home design, DIY and renovation tips to inspire your next big project. Tickets are available online.